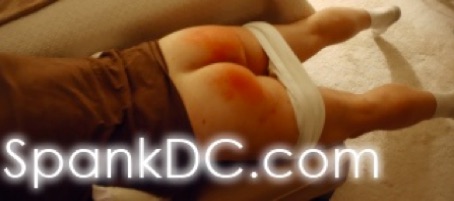 SpankDC 2023 Party Calendar

Parties 3rd Saturday of each month 4-8pm, except January which is the 2nd Saturday 2-7pm.


More Spanking Events

DC Hottest Male/Male Spanking Party 

21

Please join us upstairs at The Green Lantern the third Saturday of every month from 4pm to 8pm for SpankDC - DC's hottest male/male spanking party!  Bring your paddles, straps, belts, hairbrushes, and canes - and anything else you can use to nicely redden a boy's bottom - for a long afternoon of spanking fun.


We've been getting great crowds of 50 or more guys at the monthly parties with a good mixture of age ranges and spankers/spankees. If you are shy about playing in public or new to the scene, feel free to just come and socialize.


Admission is always FREE :)

Party Location

SpankDC parties are generously hosted by:


1335 Green Court, NW
Washington, DC 20005


(202)347-5120



Driving:     Click Here For Map and Driving Directions


Parking:      Parking on 13th, 14th and L Streets are metered on Saturdays until 10pm.  For unmetered spaces, look in residential areas east of 13th Street, as well as north of Massachusetts Avenue.   However, many residential spaces require a zone permit on Saturdays, so please read all posted parking signs to determine if you are in a legal space.   DC is very aggressive about ticketing vehicles for parking infractions.


Metro:         Take the  Blue or Orange Line to McPherson Square.


Walking:     Continue to 1100 Block of 14th St., NW and proceed down the alley next to 1111 14th St., NW.  You can also get the Green Lantern from alleyways off of the 1300 Block of L Street  and the 1300 Block of Massachusetts Avenue (see red arrows on map above).



Play at Your Own Speed

There is no requirement to play when you come to the party.  If you are shy about playing in public, new to the scene, or just curious, you are more than welcome to come and just socialize with other like minded guys in a relaxed and friendly atmosphere.

Free Admission

Parties are completely free to attend.   Please just show your appreciation to The Green Lantern for hosting our party by patronizing their friendly and very reasonably priced bar throughout the afternoon.  And who knows ... you might even be able to convince one of the cute bartenders to take part in the fun ;)


What to Bring

Party guests are encouraged to bring as much or little gear as they need to have a spanking good time.  For some all they need is their lap and the palm of their hand.  Others come with toy bags stuffed with all their favorite implements.  


Please keep in mind that SpankDC is a dedicated spanking event and not a general BDSM play party.  So by all means bring your paddles, belts, straps, canes, brushes, etc., but please leave the whips and chains at home.


What to Wear 

There is no special dress code for the parties.  Most guests wear comfortable street clothes, but anything goes so long as you keep your private parts covered up in front.  Please make sure you can keep your junk covered at all times by wearing a jock, keeping your underpants pulled up in front, etc.


Click here to review a complete list of the party rules.

When You Get There

Go around to the side entrance of the bar and take the stairs to the second floor (the first floor will likely be open for the bar's regular customers).  Once upstairs, there will be a table with name tags ... put one on, grab yourself a drink at the bar, and enjoy the afternoon.

S

Welcome to SpankDC.com

pankDC is a social organization serving the male/male spanking community in the Washington DC-Baltimore-Northern Virginia metro areas. Currently, SpankDC.com's primary focus is on organizing monthly parties where spankers, spankees, switches, and the spank-curious can socialize and play.